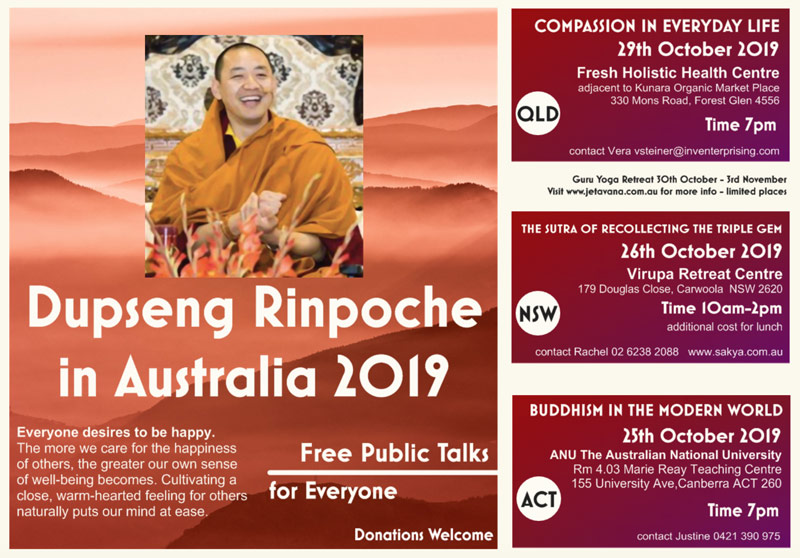 We are very pleased to announce Venerable Dupseng Rinpoche's visit to Australia presenting the timeless wisdom of the Buddha.
---
25th October 2019 CANBERRA ACT
BUDDHISM IN THE MODERN WORLD
venue:
ANU The Australian National University
Rm 4.03 Marie Reay Teaching Centre
155 University Ave,Canberra ACT 260
time: 7pm
free public talk / donations welcome
to confirm your attendance please contact Justine 0421 390 975
Hosted by The Australian National University Buddhist Association (ANUBA).
---
26th October 2019 CARWOOLA (near Canberra) NSW
THE SUTRA OF RECOLLECTING THE TRIPLE GEM
The three vehicles combination practice
Bodhicitta and Enlightened Mind
What we need to do as Vajrayana practitioners
venue:
Virupa Retreat Centre
179 Douglas Close, Carwoola NSW 2620
time: 10am-2pm
free public talk / donations welcome (additional cost for lunch)
Bookings can be made by contacting Rachel 02 6238 2088 www.sakya.com.au
Hosted by Sakya Losal Choe Dzong -Tibetan Buddhist Society of Canberra
---
29th October 2019 FOREST GLENN QLD
COMPASSION IN DAILY LIFE
venue:
adjacent to Kunara Organic Market Place
330 Mons Road, Forest Glen 4556
time: 7pm
free public talk / donations welcome
to confirm attendance please contact Vera [email protected]
Hosted by Vera & Nigel
---
30th October – 3rd November 2019 SUNSHINE COAST QLD
GURU YOGA RETREAT
venue:
Jetavana Grove82 Upper Rambert Road, Eudlo QLD 4554
for more information about the retreat please visit Guru Yoga Retreat
Hosted by Jetavana Grove
---
We look forward to welcoming you!
#buddhistpublictalks #compassion #buddhistteachings #buddhisminthemodernworld